We are delighted to share some of the accomplishments of our faculty that have recently come to our attention: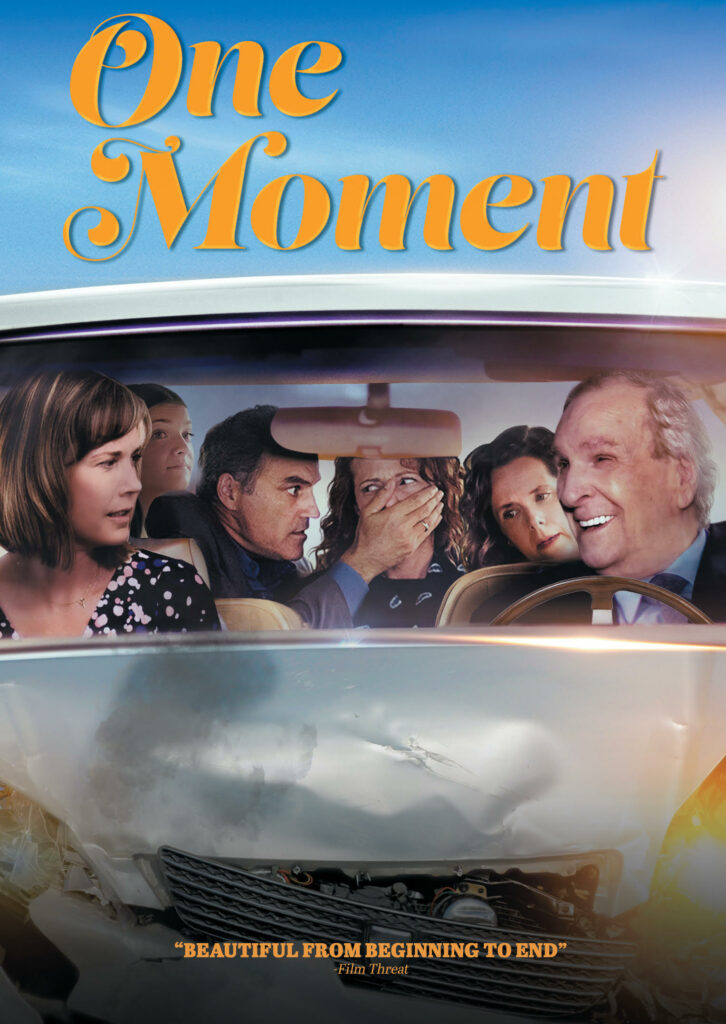 Congratulations to Communications professor Deirdre O'Connor, who wrote and directed the film One Moment and co-produced it with spouse and partner Jodi Weiner! While O'Connor had previously written narrative screenplays and produced several short documentary videos, this was her first feature film, and it has received positive attention, including awards, at film festivals. "One Moment is the humorous, heartwarming story of middle-age siblings struggling to manage their own lives, while also caring for their recently widowed, aging father" (Rotten Tomatoes). The review in Film Threat – Independent Movie Magazine commented, "O'Connor harnesses both drama and comedy to create an emotionally honest and amusing production. The impressive cast brings to life the rich, realistic characters with great aplomb. The film is beautiful from beginning to end, and I'm truly grateful for the message O'Connor offers the world." Several of O'Connor's former students were involved with the film: five of the production assistant interns are former students; by coincidence, the Key Grip (lighting) who was hired by the Director of Photography was a former student of O'Connor more than ten years earlier; similarly, the Screen Actors Guild representative assigned to the film was discovered to be a former student during the first phone call with SAG. Long Island residents will enjoy seeing dozens of Long Island businesses, parks and neighborhoods, schools and churches featured in One Moment. Also, the film stars Danny Aiello in his final screen performance. The film will be available for streaming beginning July 26 on Amazon Prime, Apple TV, Direct TV, and Google Play. We are so proud of Prof. O'Connor — and look forward to watching her film!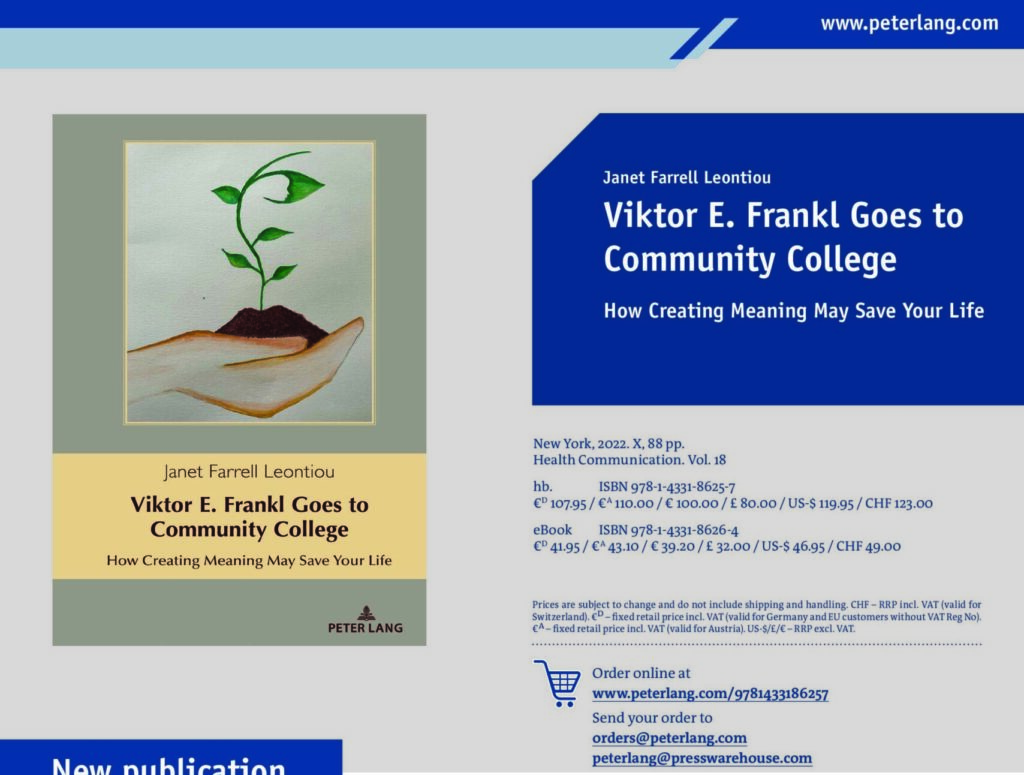 Communications professor Janet Farrell Leontiou's fourth book, Viktor E. Frankl Goes to Community College, is a 2022 release by Peter Lang Academic International Publishers. Farrell Leontiou invites the reader into a new relationship with words, melding logostherapy (attending to the word) with logotherapy (Frankl's psychology premised on the need for meaning). The press release notes, "one of the main causes for the hopelessness that drives some to thoughts of suicide is meaninglessness. This work invites the reader to create a life full of meaning by attending to words. When we shift into a different relationship with words, we begin to shift as well." The picture on the cover is actually artwork from one of Farrell Leontiou's NCC students, Avishikta Bal; it is a response to the book's ideas, which have been integral to Farrell Leontiou's courses in the Communications department at Nassau Community College. Avishikta Bal's remark about her picture is so beautiful: "I tried showing how students enter your class with minds that do not know how to think, like I was. And then, you nurture the young minds and they grow up to become thoughtful human beings. So the hand represents the teachers and the professors who nurture the saplings (students) to become full-grown humans."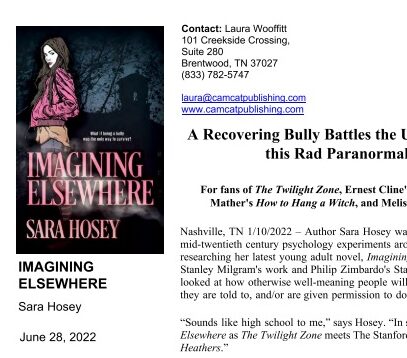 English professor Sara Hosey's first YA novel, Iphigenia Murphy, came out in 2020 and was called a "gritty and unflinching coming-of-age story." Her second YA novel, Imagining Elsewhere, was released by CamCat Books on June 28, 2022. The publisher's byline is great: "A recovering bully battles the ultimate queen bee in this rad paranormal YA novel." Hosey explores the psychology of obedience and cruelty, 1980's pop culture, and weaves in paranormal elements. One inspiration she says was The Twilight Zone's episode "It's a Good Life," in which a boy tyrannically rules a small town with the aid of his supernatural powers. Both of Hosey's novels explore issues that are very relevant today — and they are great reads! Prof Hosey teaches composition, literature, and creative writing in NCC's English Department.