Professor Kenneth Jenkins, chair of NCC's Africana Studies Department, passed away on July 15th of this year. Professor Jenkins began working as an adjunct professor at Nassau Community College in 1966 and became a member of the full-time faculty in 1972. Many of our colleagues have shared their memories of and gratitude for Professor Jenkins' presence at NCC through the campus email, and he was remembered in a lovely and generous Newsday article earlier this month. Jenkins' son Roderick is quoted there as saying, "[Teaching] was his mission. It was his calling. It was his life…Being a professor, that was the thing he got up and did every day until he was 89." (If you'd like to read the entire obituary, you can do so here.) There is also a Facebook page called Professor Jenkins Says, where people have been sharing their thoughts and memories him.
Professor Jay Silverman, who retired from the English Department some years ago, had this to say in a brief piece that he sent to some colleagues, with permission to share:
It was Ken Jenkins, my twelfth-grade English teacher, who inspired me to become an English teacher. Mr. Jenkins (as I still think of him) was charismatic. Besides being entertaining and funny, and besides teaching Shakespeare and Milton, Ibsen and Strindberg, he also gave each student a feeling of being recognized and enjoyed. It seems to me that he "got" each student and liked what was particular about that person. This was his great gift. 
[Mr. Jenkins] knew I was a strong student in history and asked what I was thinking of for a career. When I answered "the law," he basically said, "You don't want to do that!" I forget the exact words, but unbeknownst to him I realized I wanted to become an English teacher like him[,] who enjoyed all sorts of students, and who taught to the individual students, aware of who each one was.
Professor Silverman also shared this photo of Professor Jenkins from his high school yearbook: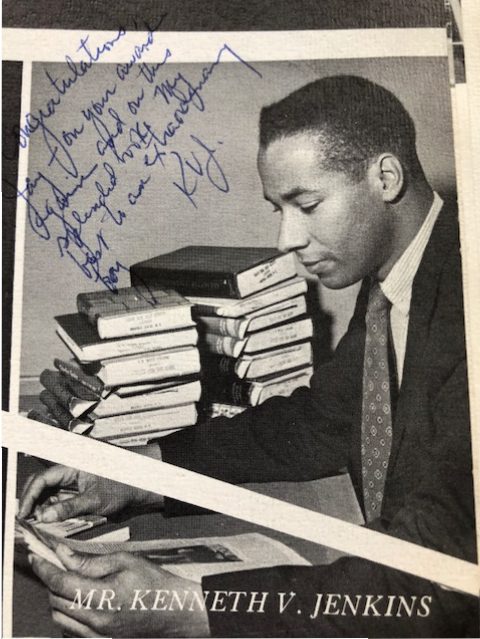 Ken Jenkins had a profound impact on his students and on Nassau Community College. He will be missed.