This post was written by retired NCCFT member Mike Steuer.
It is with an extreme sense of sadness that we report on the recent death of our esteemed colleague and strong union supporter, Dr. Joan Sevick, Professor Emerita of English.
Although never an officer of the NCCFT, Joan worked ceaselessly for the union by promoting comradery and collegiality in writing and producing the annual operettas over a thirty year period beginning in 1983.  Her song parodies poked gentle fun at all aspects of NCC life, which included satirical portrayals of faculty, students, administrators, staff, trustees, and even politicians.  We looked forward each year to laughing at ourselves and our foibles.  These shows served to unite the campus community in a humorous fashion, helping us to reflect on advantages of working together in a spirit of cooperation.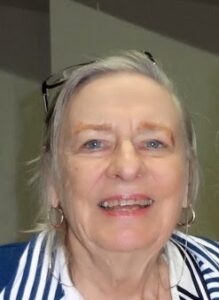 Joan served the college in many other ways as well, as Chair of the College Wide Curriculum Committee, as Vice Chair of the Academic Senate, and as Chair of a Middle States Self Study Committee that succeeded in maintaining accreditation without controversy.  Joan played a major role in developing and establishing the MDC courses, which have had an extraordinary impact on our students, and she was, as well, a valued member of the English Department, publishing several volumes of her poetry.
Since Joan's retirement several years ago, we have missed her intelligence, her satirical wit, and her warm good humor.  Fortunately for us, her songs still remain, with many continuing to find relevance in our annual NCCFT operettas.  Joan Sevick set the example for all, as to how to get along with a chuckle and a twinkle in the eye.  We sorely mourn her loss, but we will continue to uphold her legacy.