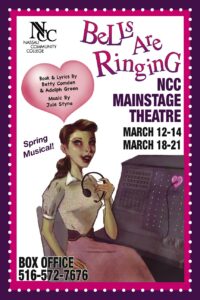 Eileen Morrison-Darren, an NCCFT Executive Board representative and member of the Department of Theater and Dance, sent this announcement for the Spring Musical.
Her email about the show describes it like this:
In this charming musical comedy, Ella works as an operator at her cousin Sue's telephone answering service, taking messages and getting overly involved in her customers' lives – even falling in love with a writer whom she's never met. In the meantime, Sue's boyfriend is running an illegal bookmaking ring out of the Susanswerphone office right under her nose. The delightful songs, including "Just in Time" and "The Party's Over," are bound to lift your spirits!
Work, love, lifted spirits – How can you afford to miss it? The show opens this weekend. Check it out! Dates and times:
March 12 – 14; March 18 – 21
Performances: Thurs./Fri.: 8:00 p.m.; Sat: 3:00 p.m. & 8:00 p.m.; Sundays at 3:00 p.m.
Tickets: $15.00; $12.00 for NCC Employees and their Guests and Seniors Over 55; $7.00 for Children Under 18.